Long Text Field
The people of Syria need your help. Donate today!
Block Image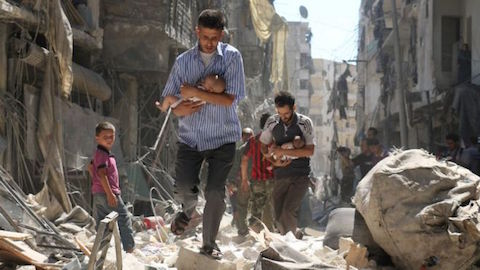 Long Text Field
The UN has proclaimed the events in Syria as the worst humanitarian crisis in history. There have been over 6.1 million Syrians internally displaced, and another 5.5 million that have had to flee their country. It has now been over 7 years since the start of the crisis, but we are seemingly no nearer to a resolution, and Syrians continue to be victim to violence, starvation, and lack of access to medical care, shelter, safe water, and education.
Your contribution is crucial to the survival of Syrians on the ground as well as refugees around the world.
What will your donation achieve?
Ultimately we ensure that donations made to ARCS are used to support the Syrian people, and address the needs of our member organizations in their humanitarian work. We do allow donors to direct their donations to one of two different causes:
ARCS ACTIVITIES - As a coalition of several different Syrian-American humanitarian organizations, ARCS plays an important and distinct role. We perform advocacy on behalf of Syrians across multiple levels of government, including internationally, to give Syrians a voice in the important decision-making that will impact the humanitarian crisis for years to come. We also provide coordination and capacity-building services for our members, whether that be providing trainings on important topics or organizing a media response to pressing issues affecting Syrians. Your donations to ARCS are vital in ensuring that the Syrian-American humanitarian community gets a voice, and crucial support  as they work to support their people.
MEMBER HUMANITARIAN GRANTS - While ARCS itself does not implement humanitarian projects, our amazing member organization have dedicated teams on the ground to get supplies and relief to Syrians, both within their homeland and those living as refugees. ARCS provides direct support for this work in the form of grants. On a quarterly basis, ARCS receives grant proposals from its member organization, approves projects, and provides the financial support to make the plan a reality, and help Syrians in need. Our member organizations work across multiple different countries in sectors as diverse and food aid, medical relief, education, and more. Your donation to our member grants has a real impact in saving lives. For a recent example of the impact of our member grants, see our 2019 flooding response.
American Relief Coalition is a 501(c)(3) organization, and all donations are tax deductible.